Mission PLUS(+) Raises $224,000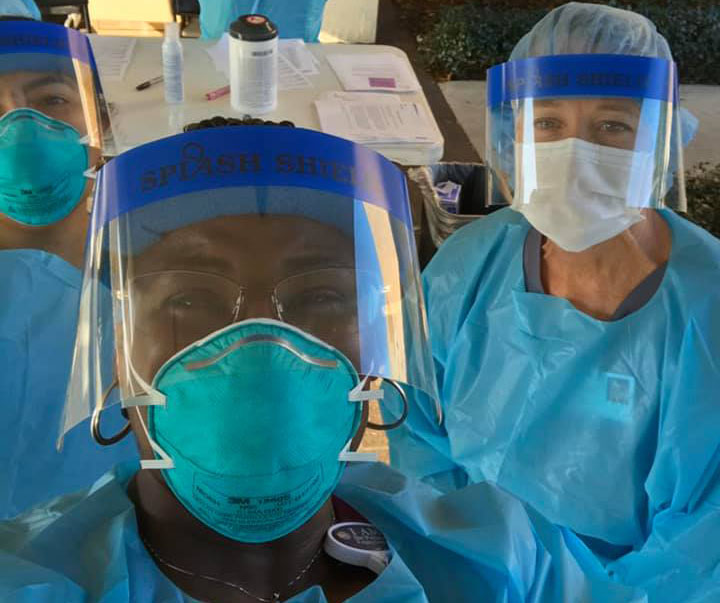 Your impact on the Mission PLUS(+) Fund has raised more than $224,000, which has helped us enable our hospitals and outreach programs to continue their COVID-19 response plans, and to keep our associates, caregivers and patients safe.
More than $118,000 has been spent to help our Ascension St. Vincent's associates affected by the pandemic. These valued contributions have helped our healthcare heroes with rent and mortgage payments, utility bills, groceries and car payments. We were also able to provide more than $66,000 in personal protective equipment (PPE) for the hospital and more than $60,000 for our Mobile Health Outreach Ministry.
The Jim Moran Foundation contributed $50,000 to aid our medical staff and senior clients affected by the COVID-19 pandemic. This generous gift will help us provide support for hunger relief, medical care, housing and loss of income related to the coronavirus.
Wells Fargo awarded the Foundation with a $15,000 grant to support the Mission PLUS(+) Fund to ensure our caregivers on the frontlines are supported during this unprecedented time.
Florida's First Coast Relief Fund (FFCRF) recently donated $50,000 with support from the following partners: The Community Foundation for Northeast Florida, Jessie Ball duPont Fund, Jewish Federation & Foundation of Northeast Florida, United Way of Northeast Florida, and United Way of St. Johns County.
The Jessie Ball duPont Fund allowed us to reallocate a $68,000 grant originally designated for our canceled Medical Mission at Home event to support the Mission PLUS(+) Fund.
Ava Chung is a 12-year-old baker who recently competed in the virtual Clay County Fair. When she won the Fan Favorite Blue Ribbon, she donated her $25 Amazon gift card to Ascension St. Vincent's Clay County to purchase medical supplies and resources to help during the COVID-19 pandemic. Ava said she wanted to give back to the people working so hard on the frontlines. Thank you to Ava's parents for inspiring the next generation of philanthropists.
For more information, visit GiveStVincents.org/Mission-Plus-Fund.