Getting to Know Natalie Reilly-Finch, Our New Director of Major Gifts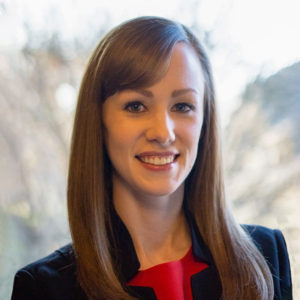 We're excited to introduce you to Ascension St. Vincent's Foundation's new director of major gifts, Natalie Reilly-Finch – an experienced philanthropic professional with a longstanding, heartfelt passion for the work we do.
Natalie had always felt called toward a career in philanthropy, but she hadn't turned her focus to healthcare until she had an up-close look at the medical industry through her significant other, Ryan. As he worked through medical school and became a physician, Natalie realized that "healthcare isn't just about healthcare."
"The things that physicians and medical staff do for people outside of curing them physically – the emotional and spiritual wraparound support that these individuals offer – brought light to a new passion for me," Natalie said.
It was this realization that led Natalie to seek out a career at Ascension Michigan, where she worked for nearly four years. While there, she was responsible for developing and maintaining long-term authentic relationships with stakeholders while developing funding requests and implementing strategic campaigns.
The gravitation toward Ascension was natural. Natalie was raised Catholic and considers it a defining characteristic of her life and identity. She aims to live out those values, which were reaffirmed during her time at Loyola University Chicago, where she completed her master's degree in public policy & nonprofit management in 2016. Loyola's Jesuit mission centered around the importance of caring for the whole person, a philosophy that rings true in the work Ascension does. "To work for a place that shares those values and identity... it's a wonderful place to be," Natalie said.
During her time at Ascension Michigan, Natalie also found a kindred spirit in Sister Joan, who had worked for Ascension St. Vincent's in Jacksonville years prior. The two became close friends, and when Natalie was eyeing a move to Florida, Sister Joan inspired her to reach out to Ascension St. Vincent's Foundation.
"I wanted to stay with Ascension because of how much I love its mission. I'm humbled that I'm able to join this team," Natalie shared. "We have so many amazing projects on the horizon for our community, and I'm thrilled to step in at such an important moment."
Above all, Natalie is excited to help make a difference for Ascension's patient population here in Jacksonville and hopes to shine a light on how philanthropy helps our organization reach so many people in need.
"I love connecting generous hearts to the specific causes and areas that really matter to them," Natalie said. "There is nothing like sharing your blessings with those in need."