Dr. Saumil Oza Launches #Masks4Jax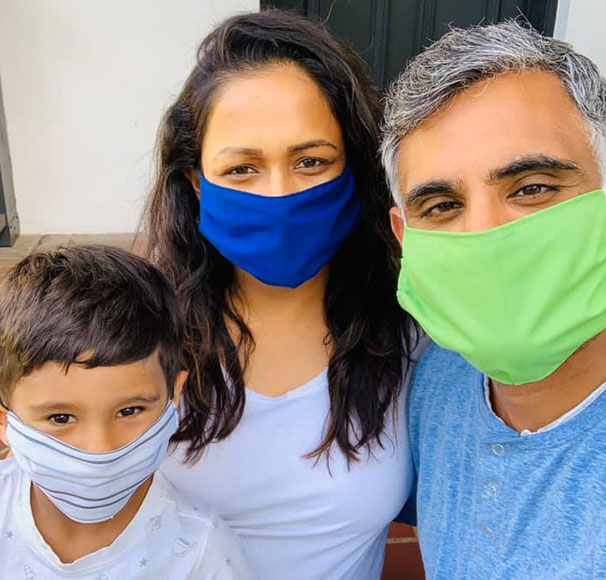 [As published in the Daily Record on April 9 by Katie Garwood]
In less than a week, Ascension St. Vincent's cardiologist Saumil Oza coordinated donors and 50 restaurants and acquired 350,000 cloth masks to distribute free to the community to help slow the spread of COVID-19 in Jacksonville.
The goal of his initiative, Masks4Jax, is to have as many people wearing masks in public as possible to curb the expected surge in patients in the next two weeks. Oza said the masks should be worn every time someone leaves home, especially to visit stores or high-traffic areas.
With his extra time at home in quarantine, Oza began brainstorming how to help the community. He found research showing that certain countries whose residents wore masks reduced their surge in coronavirus cases.
Coupled with wanting to help the restaurant industry, Oza said if he could get masks, restaurant takeout and delivery orders would be an ideal avenue to distribute them. He didn't want a central distribution site where people might crowd to receive a mask.
"I started thinking about it a week ago. Thursday last week," he said. "I just started reading about it and I kind of went crazy. I just started calling everyone I knew."
He texted restaurant owners and garnered the support of The Community Foundation for Northeast Florida to purchase and distribute the masks. The first round of 30,000 masks will go out to restaurants April 14. Each customer receives two cloth masks.
He intended to distribute a first round of 3,000 masks, which were sewn and donated by an outside party, April 8. After deciding the quality wasn't good enough, Oza decided to wait until they were available from a different manufacturer.
He credits local restaurateur Fraser Burns with helping round up restaurants and providing a storage and distribution center for the masks.
He worked with the Connect Agency to craft a website and marketing materials for the project. The masks will be made by a Jacksonville manufacturer, but he declined to state which one to avoid overwhelming its business. He said with donor contributions, he purchased its inventory for the next two weeks.
The city of Jacksonville is working with Masks4Jax to distribute masks through Meals on Wheels, homeless shelters and the Duval County Schools emergency meal service. The Jacksonville Jaguars will purchase and distribute 40,000 masks through the program.
Jonathan Insetta, owner of the Black Sheep, Orsay and Bellwether restaurants, will participate in the initiative, distributing masks in to-go orders from Black Sheep and Orsay. He said the idea was phenomenal since he'd had trouble finding masks for his staff to wear.
"I hope it's a win-win and a way to support local business," Insetta said. "But more importantly, I hope it's a win for the community that allows people to be more educated and aware of the masks, how to properly use them, how to properly clean them, when to use them."
Oza also is targeting professional organizations, like the Northeast Florida Builders Association and the Duval County Medical Society, to distribute masks to members and to donate.
He is working with Baptist MD Anderson Cancer Center radiation oncologist Cynthia Anderson to involve hospitals in the initiative as well. They already have Ascension St. Vincent's on board to spread the word about the benefits of wearing masks.
Meanwhile, Oza is working as a cardiologist, seeing patients and performing surgeries in addition to coordinating Masks4Jax efforts.
He hopes people wear the masks every time they go out and save them to wear in future flu seasons to prevent another outbreak.
"We're going to go as big as we can as fast as we can," Oza said. "We want to get these masks in as many hands as possible as soon as possible."
Visit Masks4Jax.com for a list of participating restaurants. Restaurant owners can participate by visiting the website.